How it started
Not so long ago we received a message from our partner AirCare:
Mihail, meet Smog Alarm. They were contacted by European Fund For the Balkans (EFB) to plant 60 trees in Skopje for Trees of Friendship. We do not have much experience in this subject and we would like to receive guidelines from you. Does Treebanks wants to be part of the planting?
This message cheered us up, after all, as socially responsible company we stayed quiet from the start of the Covid-19 epidemic.  Treebanks is based on traveling and investing affiliate fees into tree planting, this meant we had a small number of conversions through the year. We asked few questions how and why this planting needs to be organized. After short discussion we accepted to co-organize the planting action.
Trees of friendship
Shortly after, we did a meeting with EFB where we met similar initiatives from Belgrade, Sarajevo, Tirana, Podgorica, Pristina and us (together with AirCare and SmogAlarm) from Skopje. EFB teamed all of us (For Clean and Pretty Sarajevo from Sarajevo, Environmental Territorial Management Institute from Tirana, Sbunker from Pristina, Skopje Smog Alarm,  Air Care and Treebanks from Skopje, OZON from Podgorica, and Right to the City, The Forest Sings and Streets for Cyclists from Belgrade) to implement Trees of friendship, 400 trees to be planted simultaneously in 6 different cities. All of this in order EFB to compensate for their business travels carbon footprint in 2019.
After few meetings Trees of friendship got its shape, we agreed on the date, the message we want to send, the video that will be produced to showcase the importance of planting trees and how they improve pollution. For Skopje we decided to plant 60  platanus orientalis trees (traditionally called chinar / чинар), it is autochthonous type of tree that grows in Macedonia, traditionally it was planted in central positions in the cities in order to express gratitude, each city in Macedonia has its own old chinаr (чинар) which is orientation and meeting point in the city.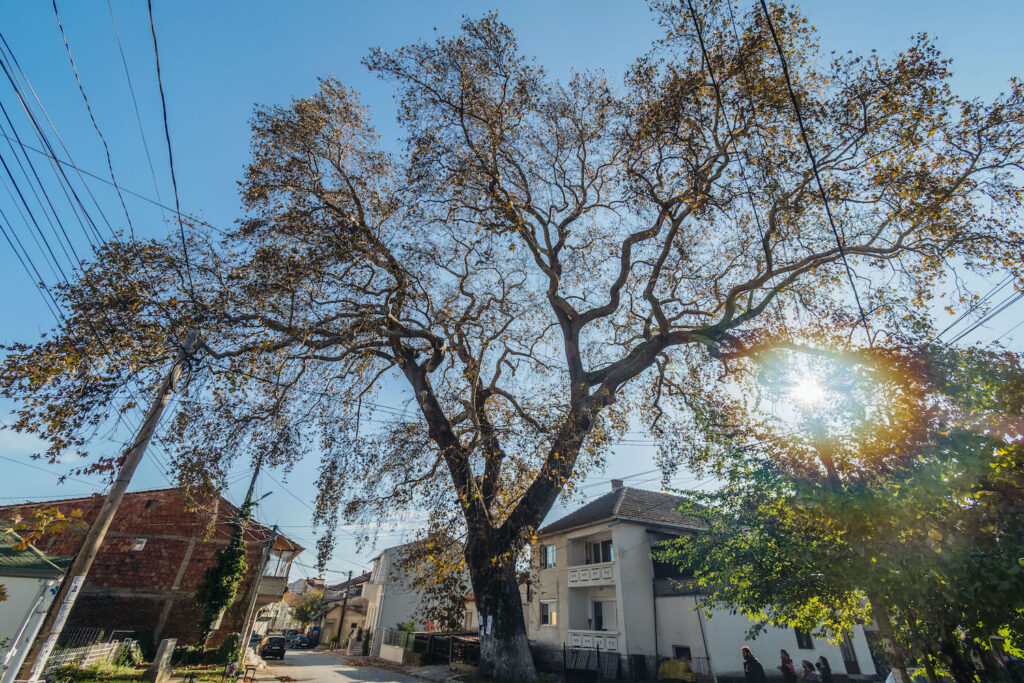 Planting location
We chose Municipality of Aerodrom for planting location due to our existing collaboration from the past. 30th of October was the date for Trees of friendship trees planting action. In the beginning of October we already filled Request for permit for planting trees, for which we received positive response. We would like to express sincere gratitude to Sofija the Head of environment department in Municipality of Aerodrom for her enthusiasm and support.
The planting day
30th of October came, 6 cities were ready to plant 400 trees. We arrived at the location around 08:00 am, the weather was like created for planting sunny and warm, trees came right after, everything was going according our plan plan. Soon after AirCare and SmogAlarm came to the location we started moving the trees next to the pre dug holes. The planting started at 11:00 as planned. Lina the photographer was waiting on stand by and started filming and taking photos. Some media outlets came and interviewed AirCare and Skopje Smog Alarm as organizers of  Trees of friendship. With the help from the seasonal workers in Municipality of Aerodrom we managed to plant the trees in two hours.
Lina prepared this exceptional video about Trees of friendship project:
How to lower your carbon footprint as organization/company?
If you are an organization like EFB and have business travels with big carbon footprint. With Treebanks we have a solution for you. By signing simple memorandum with us, for every travel you book starting from your landing page we will plant a tree for free. You are lowering your carbon footprint just by using Treebanks.
So far we have multiple partnerships:
Macedonia2025
Polar Cape
Netcetera
Finki
If you interested in partnering with us. Drop us a line at contact@treebanks.com