The story
Hey there, it has been a while. The timing of our tree planting blog posts correspond with the nature of the trees. Yes. It is planting trees time of the year at least in Macedonia. Read bellow how we planted 6000 trees in Radovish.
Last year we had a campaign that whoever will subscribe to our newsletter we will plant a tree for them (You can subscribe now, we will send you a certificate, just do not tell no one). We had 3500 subscriptions, but we promised that we will plant 10k trees. Last year planted 4350 trees in Plackovica and Kalugerica. There were more or less 6000 trees left to be planted.
2021 was very bad year for the forests in Macedonia. Around 12020 of forests burned in the fires in Berovo, Pehcevo and Kocani. We wanted to help there but the terrain is not ready for planting yet. So we decided to do the planting where we started last year we decided to plant 6000 trees in Radovish.
We are dedicating 2022 to Berovo, Pehcevo and Kocani all the funds that will be gathered will be invested in planting trees there.
Thanks!
Usually we give thanks at the end of the post, but we think everyone that helped should have the primetime.
The biggest thanks to: Verica Bekjarova and the Red Cross Radovish, Marjan Ristovski, Natalija Gura, Goran and Natasha Jakovcevski, Katerina Doneva, Aco Ristov (Mayor of Radovish) and his team, Igor Chapov, Irina Tosheva, Cece Krskova (the teacher) and her students, Emil, Ilija Susinov, Kole Djordzizkov, Dragan Krstev, Zoran Pacemski, Martin Valjakov, Nikola Talevski, Vasil Gjorgickov, Slavica, Zorica, Gerce, Kiril Gjozev, Kosta Kelkocev, Dejan Jovanov, Petar Efnushev, Andrea, Martin, Vane Spasov, Beti, Riste Kukutanov, Mitre Ristov, Natasha Ristova, Dime Damjanski, Stefan Stevkov, Stole Mihajlov, Velin, Vaska Valjakov, Borce Valjakov, Georgi Kochev, Nena Kocheva, Mile Duldurov, Marija Kacareva, Kiro, Vesna and her family, Rozi, Stefan, Eli Pacemska and all of those we forgot.
The usual treebanksers (Friday)
Friday, the weather is cloudy but warm with cool breeze, it's 8:00 am, Neven went to get the tree seedlings, me and Mitko we went to buy some food and bring the equipment to the planting location. As soon as Neven arrived with the seedlings we started planting. The soil was soft and the planting was going fast.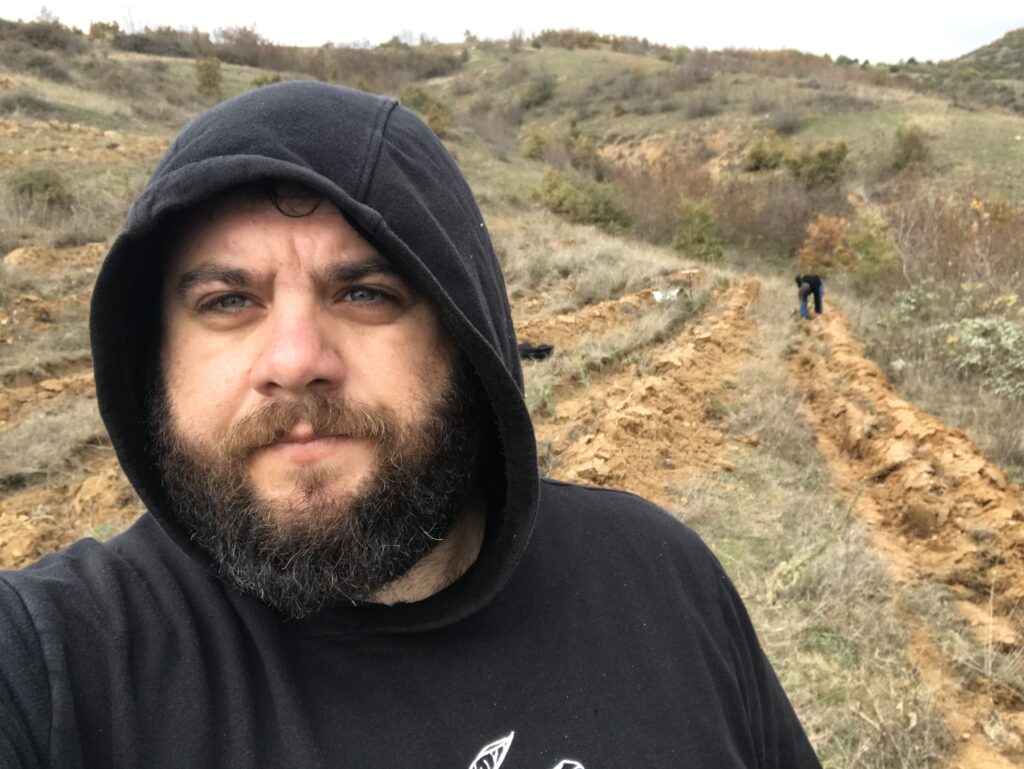 Since Friday is a working day we didn't expected volunteers. But, the night before Natalia and Marjan filled our volunteer's form and came together with their children to help us. When they arrived I told their children a joke that my father Mitko is autumn Santa Claus and they should work with him and I am summer Santa Claus (both of us have beards). The whole day they were bringing the tree seedlings and discussed which Santa is which.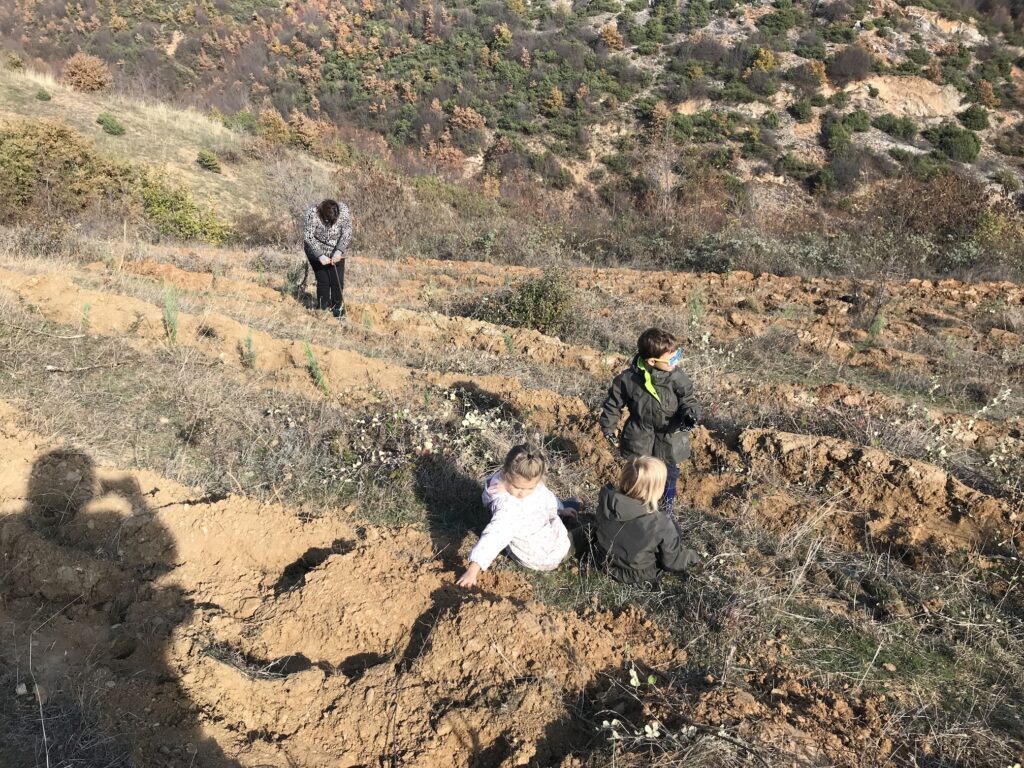 In the afternoon the cool breeze from earlier turned into wind that made the work unpleasant. Today's volunteers went home and our team stayed to finish the leftover unboxed Arizonian cypress seedlings. We finished the day with 1200 trees planted.
The Saturday
Saturday, our day started with buying refreshments and sweets. The plan for today was to complete as much of the work as possible. We split onto two micro locations divided into two teams. Neven and Mitko continued to work from yesterday. I was responsible for welcoming everyone and giving them their obligations.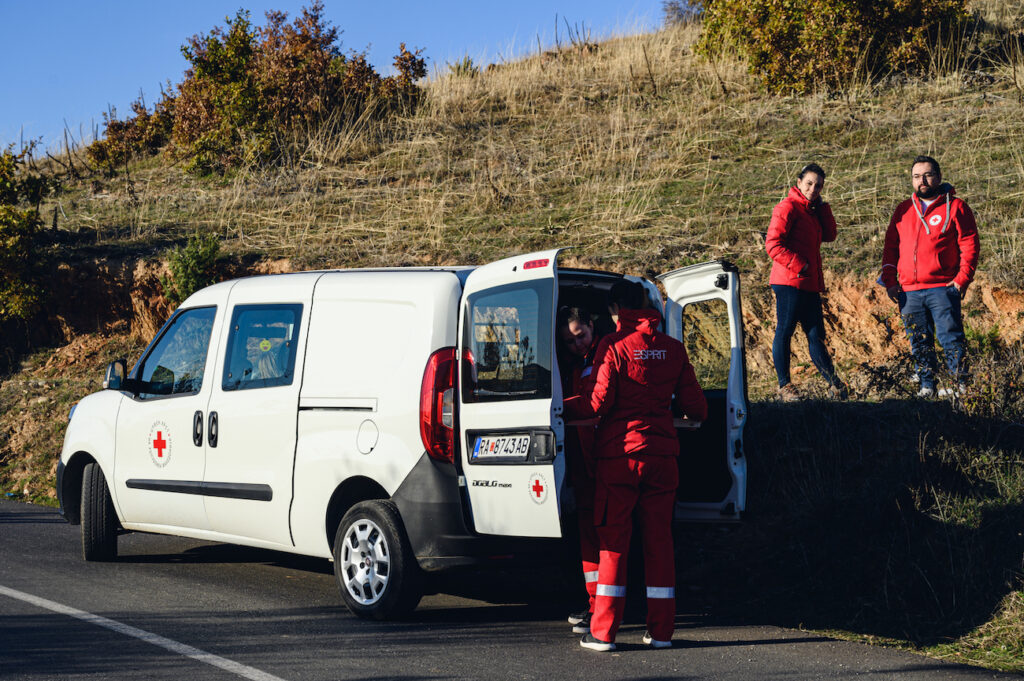 Minutes before ten, Red cross arrived, setup their stand and started the first round of tea. Everything was ready to roll. The weather was sunny but the wind was making things hard, it was not pleasant to work. Soon the first volunteers arrived, each volunteer went through short tutorial how to plant trees, how to use the tools we had and was assigned a position on which to work on.
Shortly after we filled completely Neven and Mitko's team the mayor of Radovish, Aco Ristov joined and we started planting on the second location. Within a glance all teams formed and we ran out of planting tools. We were planting trees in full throttle. Irina Tosheva (a fashion designer) joined us. Last year together with her we run a campaign that Treebanks will plant a tree for each piece of clothes bought from her collection, so Irina came to help us and document the process.
The heroes treebanksers
Around noon the heroes of this planting arrived. Yes, the eight graders you see on the cover photo of the blog post. With Cece Krskova (their teacher) we have been discussing her idea "Adopt a tree", where every kid will have a tree to care for… Well this time we did something totally different. Makedonski sumi (Macedonian forests the national forestry company) gave us 40 kilos of acorns. Planting the acorns was the task for the eight graders. They needed to dig small holes and put 3-4 acorns, burry them and create a terrace to hold water.
Before we did anything I made the youngsters sing Makedonsko devojce (Macedonian girl) with me just to break the ice and create momentum to start the work with a song. Each of the hoes we had got a group of kids to use it, each group had a bucket of acorns to be planted. As The kids started planting, their chatter was lingering through the hills and raised the bar of the already positive energy. Swiftly they moved from hill to hill planting 20kgs of acorns. Just before they left we had a surprise for them. Each of the kids got a container and small tree seedling to be planted in the container, a tree the each kid to care for. When they left we got the impression that they had the time of their life and will join us again next time. We hope these kids will be the future treebanksers.
All in all we finished the day with 2800 trees and 20 kg acorns planted.
The friends treebanksers
Sunday, the morning started like the day before. With one very very big difference, the weather was warm, sunny and clear perfect for work, there was no wind. This location was a bit further from the road. So we brought all the tree seedlings by hand and started working.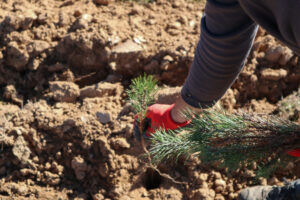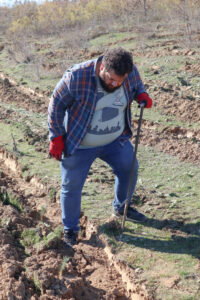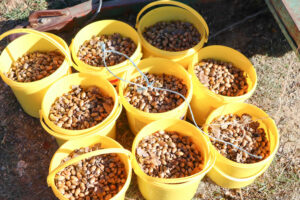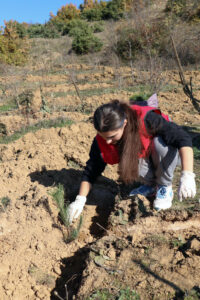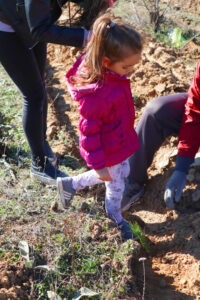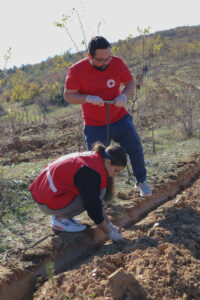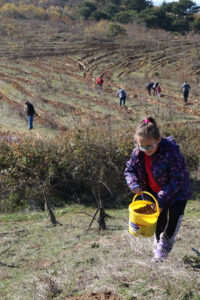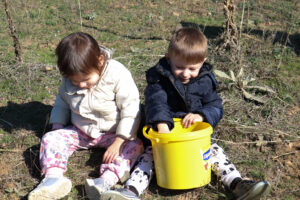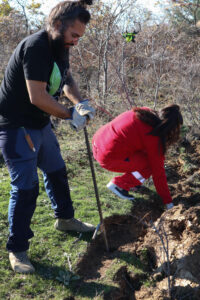 To our surprise more volunteers came on Sunday, some of the people from yesterday came again. Everything was organised like yesterday, just instead of the kids, grownups were planting the acorns. The planting was going very smooth and fast. We finished everything earlier than planned.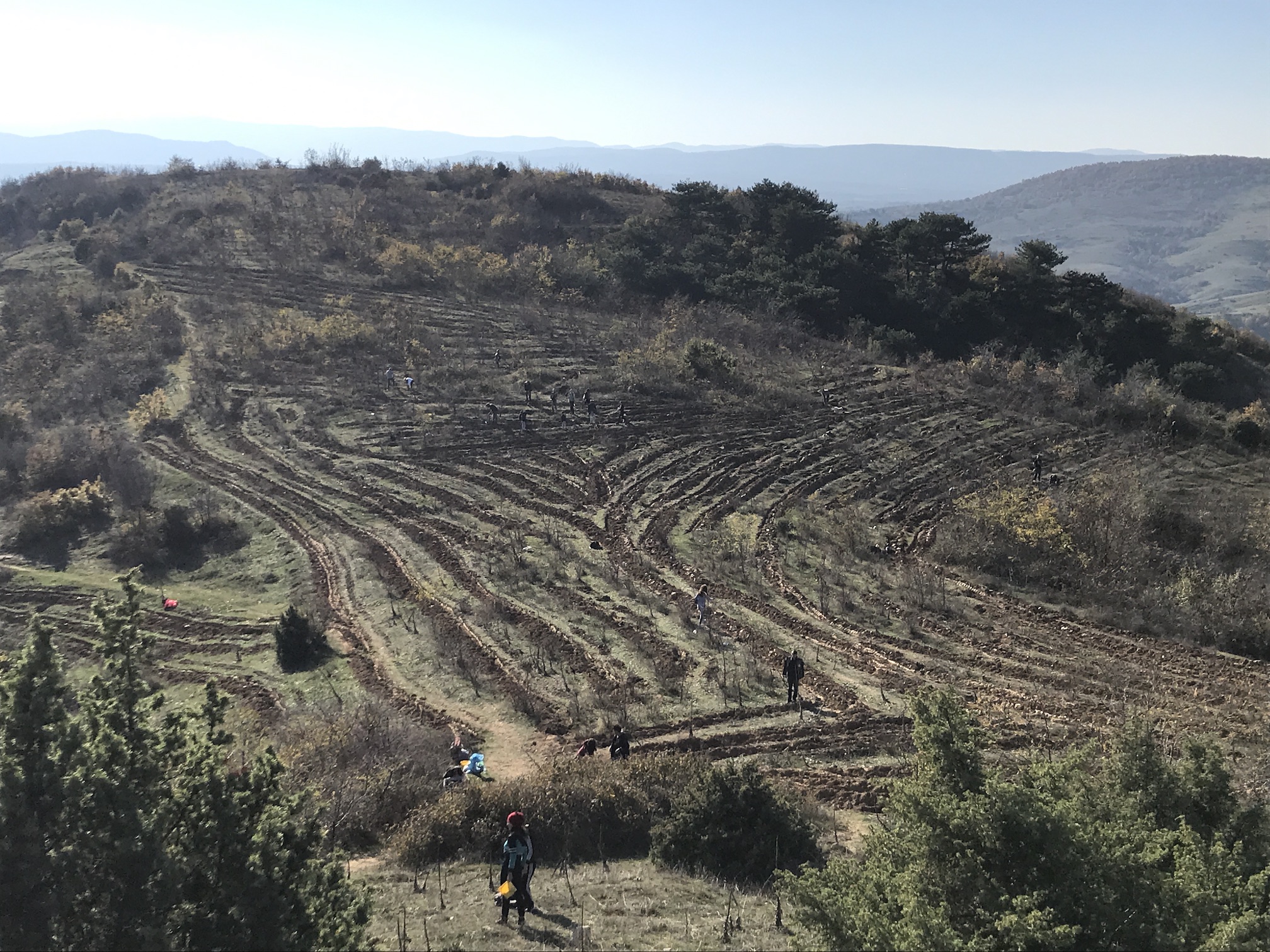 As we returning from the hill to wrap up things, something was cooking, literally and metaphorically. My friend Martin organised a surprise for me for my name day, it was St. Michael's day. He setup a small grill and cooked some meat and brought some drinks. For the first time in history of Treebanks we finished a planting with matinee.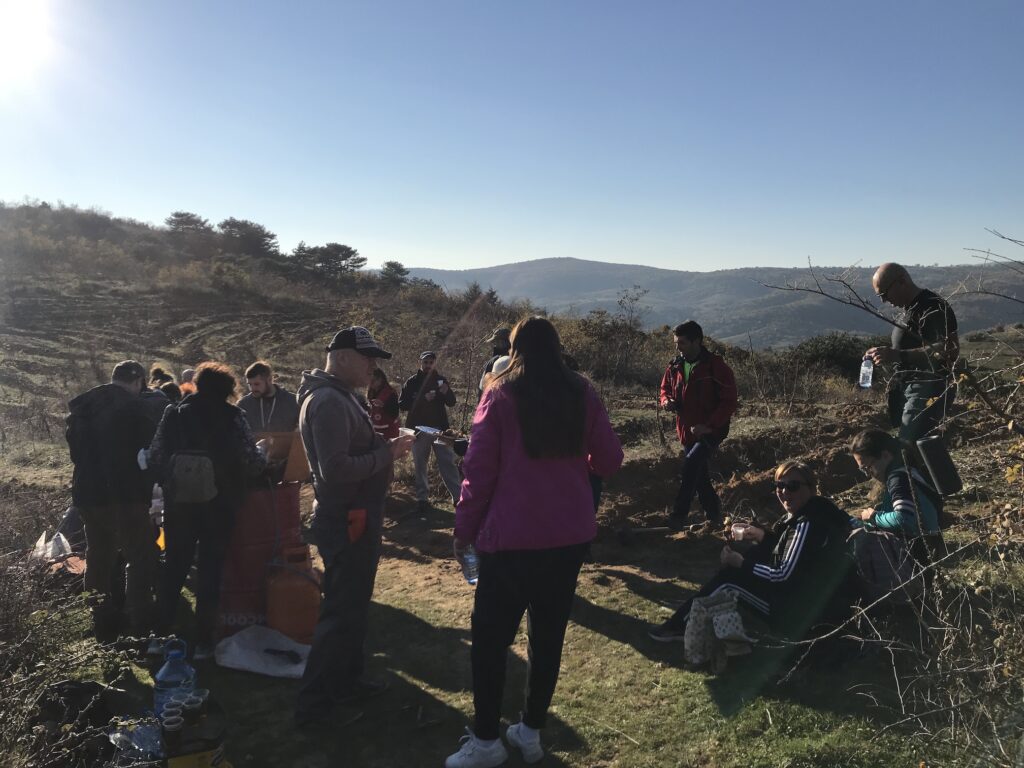 This is how we planted 1400 Arizonian cypress trees, 2600 Scots pine trees, 2000 Black locust trees and 40 kg acorns.
Will finish this post with this sunset photo we took. Book your trip and we will plant a tree for you for free.