The backstory
We finished November with our big planting action "4000 trees planted at the Mountain Plackovica". A few days later, we received a message from Mite Trajkov: "How we can schedule a planting action?". We are happy when people share our enthusiasm and contact us for collaboration. We replied: "What is your idea? What you have in mind?". His response was: "We have a small monastery in Kalugerica village, we can plant trees there, also we can plant some trees in the school yard and the park" and he continued: "Last year I bought some tree seedlings and donated them to the school but nothing happened. Can we organize somehow tree planting?". We caught on his enthusiasm so we went to visit him and check the planting locations. His enthusiasm heavily aligns with our views and modus operandi, work with people that care, the others will follow.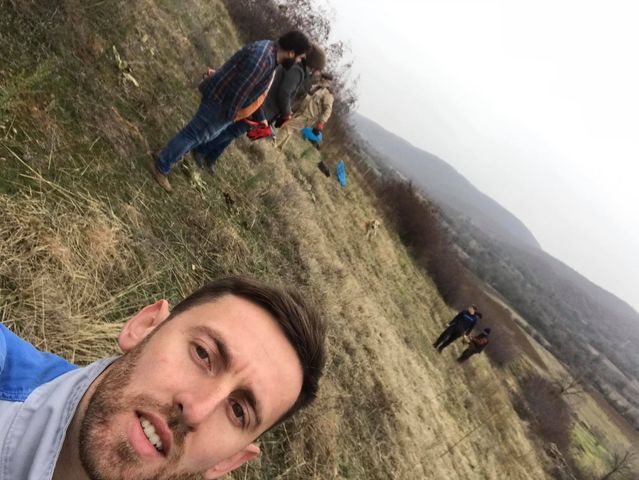 Many organizations or initiatives similar to Treebanks try to force people to become part of them, to join their  activities, share the views about the environment. That is recipe for failure, people come but they are not willing to give, instead they are there just to be present because someone forced them. If you are ever working on any cause, find people like Mite. He is an early adopter a maverick that is willing to share his enthusiasm with others and later adopters will follow
The process
We shared the above story within our network over coffer (as we are sharing with you now) within. As small and unplanned Macedonia is, as how easy is to drink coffee with someone that you do not know his whereabouts. Or you can not connect the dots that he might help you in any way. The following happened. After we shared this story, Todor Stefanov (which happened to teach music in the Orce Nikolov. Imagine the randomness.) told us that he will help us to contact the director of the school. And that happened, we got the permit, went together with Todor to coordinate for the planting location with the school maintenance employee.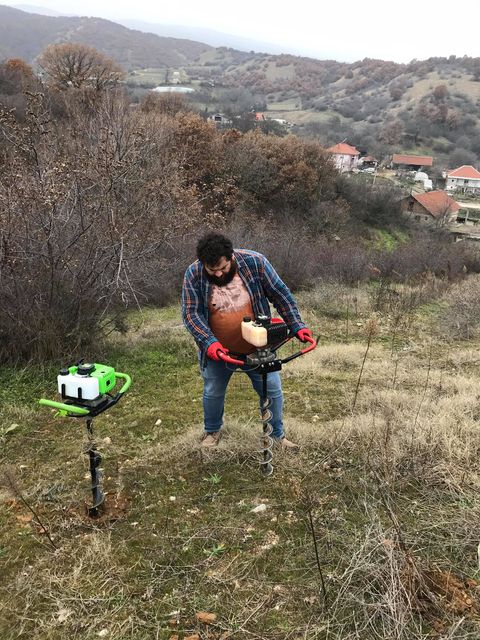 The day before the planting, we got 50 maple trees, 120 oak trees, 80 Arizonian cypress trees and 100 black locust trees and everything was ready for planting. That are the numbers, the 350 trees planted at Kalugerica
Planting at the school
We arrived at Kalugerica at 10:00, with a trunk full of trees. First, we went to off load the trees at the monastery planting location and after we returned to the school. The minute we started working in the Orce Nikolov school yard few children arrived, we invited them to help us and learn to plant trees. Later we understood that Mite sent an "aber" (message, archaic) and that is why they came. While I was drilling the holes, my father Mitko started planting the trees together with the children. In an hour we managed to plant 50 trees next to the fence of the school. The planting was engaging for the and they also came with us on the second planting location.
Planting at the hill near the monastery
After a short break after the planting at the school we headed to the Elinica hill near the monastery sv. Bogorodica. We started drilling holes and put the tree seedlings next to the holes. After we created front for work Mitko started planting and we continued drilling. After some time some locals joined us. At he beginning they asked questions, they did not know that this was organized. Later they joined us and started planting. At some point Mite joined with his friends also Todor the music teacher came. Everything was running smooth and we manage to finish in few hours.
This is our story how we planted 350 trees in the Kalugerica village.