History
The macedonian oak is native oak from Macedonia. It was first mapped as quercus macedonica in 1864 in the A.DC botanic book of the swiss botanist De Candol. The name comes because of its spreading areal a territory where the the Macedonian people have lived for centuries.
Characteristics
The macedonian oak is native in southeastern Europe, southwest Asia, from south of Italy through south Balkan till west Turkey. It grows on low to medium high altitude (up to 1550 meters).
In the Republic of Macedonian can be found in around the rivers of Treska, Crna Reka, Crn Drim also around the Ohrid and Prespa Lake. The Macedonian Oak can grow up to 20 meters, it has branched canopy and cracked thick skin.
Its leaves are green, 3-7cm long, 1.5-4cm wide, they feel skinny on touch, they turn yellow in autumn but they stay on the stem until spring that makes the macedonian oak a semi-evergreen tree. The leaves fall when new leaves start to form.
The acorns mature 18 months after the flower's pollination, they reach size between 2-4cm and are and largely enclosed in the scaly acorn cup.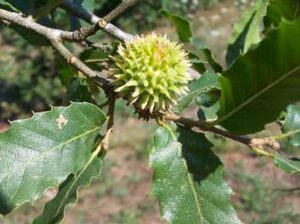 Beliefs
Because of its appearance, endurance and longevity it is considered for a symbol of power, it belongs to the good, pure and holy trees. Since old times the Macedonian people considered the oak as holy sign full with life. The leafs contain apotropaic properties. Some people think believe that the trees itself have healing power.
With this post we are starting a series of informative blog posts about the native oaks in Macedonia. Tune in to learn interesting facts about the trees that surround you and the types of oaks we want to plant.
We are planting a tree for everyone that subscribes to our newsletter. You can subscribe by clicking on this link.