Why we are planting
We are planting a lot of trees (like 3200 trees in total at Skopska Crna Gora) but our to be planted counter is close to zero. It is a bit weird? Right? Well there is a small secret that we've been keeping quiet for a while. 
In 2021, Treebanks pivoted to non-profit and opened up for donations. Our "customers" begged us to open for donations since our early beginnings. On the contrary we believed in our free/affiliate model and were reluctant towards the pivot. The pandemic stagnated our growth so we finally decided to make the pivot. We are still planting a tree for your travel reservation but you can also donate as much as you want.
Our very first donor
Immediately after the pivot the first donations arrived. Vladimir Bojchev has been waiting for our pivot for more than a year. He has a Trees Revolut Vault, all his Revolut card purchases are round-up to the nearest whole number, and the difference is stashed in his Tree Vault. Once a year He donates his funds to planting trees. In early spring he donated 500€ for which we planted 500 trees. If you want to do the same drop us a line.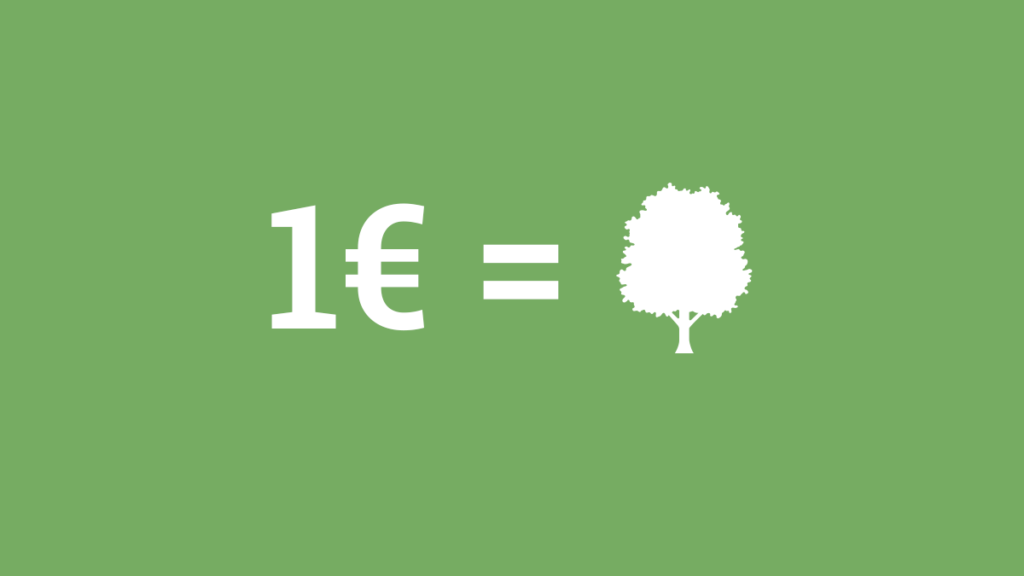 The Salesforce match
But the story does not end here. Vladimir works for Salesforce and at Salesforce have a generous program. Each employee is eligible for a Salesforce match up to $5,000 (with a minimum $50 donation) for eligible organizations every fiscal year. This doubles their employee's impact. 
Aaaaand? Yes, they doubled his donation. It was a long process but in the end we managed. Treebanks went through a detailed international and local vetting. We became part of Benevity, a worldwide association through which Salesforce makes their donation. An external Benevity partner checked our founding bylaws and everything went well, after a few months we got their match. 500 more trees to be planted.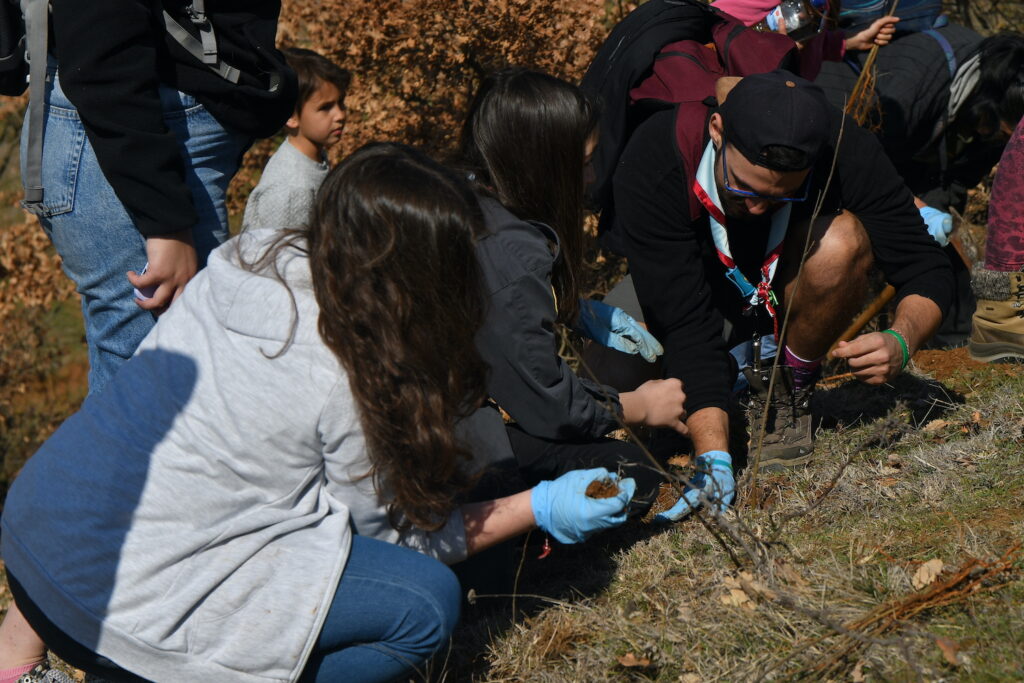 Trees planted as birthday present
Treebanks inbox is full with many messages, ideas for planting locations, messages for ordering a t-shirt, confirming peoples reservations. Last summer we received a message from Davor:
 "Hi Treebanks, My birthday is getting close. I want to do a small fundraiser at work and donate the funds to you. How can I do that?"
This confirmed that we needed to open for donations earlier. There were 200 more trees to be planted for Davor's birthday.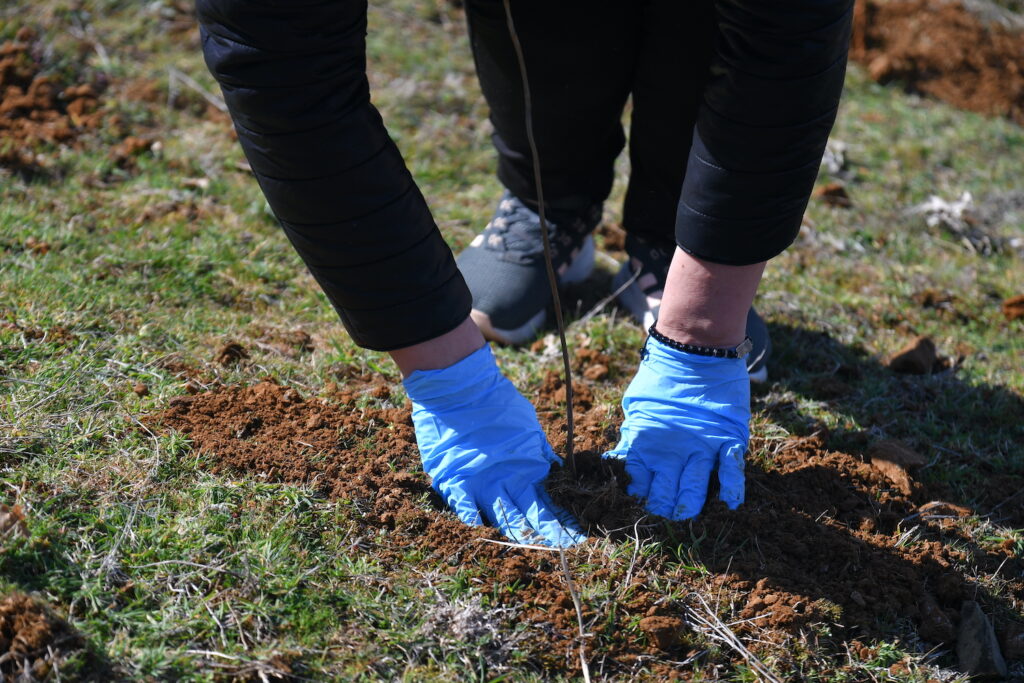 The planting at Skopska Crna Gora
Today's planting trees at Skopska Crna Gora was planned slightly different. All of the tree seedlings were already at place. We had all of our equipment with us. Besides our team, Maria and Ana joined us to help organize the volunteers. At 8:30 we arrived at the planting location and made the agenda for the day. The digging holes started immediately. Locals from the village joined us with the digging, they were happy that something good is happening in their village.
The municipality employees, The scouts, Akcijasi and the local villagers arrived on time eager to plant some trees. At 10:00 the professors from the forestry faculty and the mayor arrived. We coordinated for the last time and we started planting. 
It takes a village to raise a forest
Neven was distributing the seedlings to the volunteers. Around 100 people came to plant a tree. Each of the volunteers learned how to plant a tree and undergo the short planting tutorial directly with Mitko. 
Ana and Marija navigated all of the planters to where to go and plant their trees. At one point, people were everywhere, trees were planted, and rakija was dranк. In a few hours all the 1200 trees were planted and watered.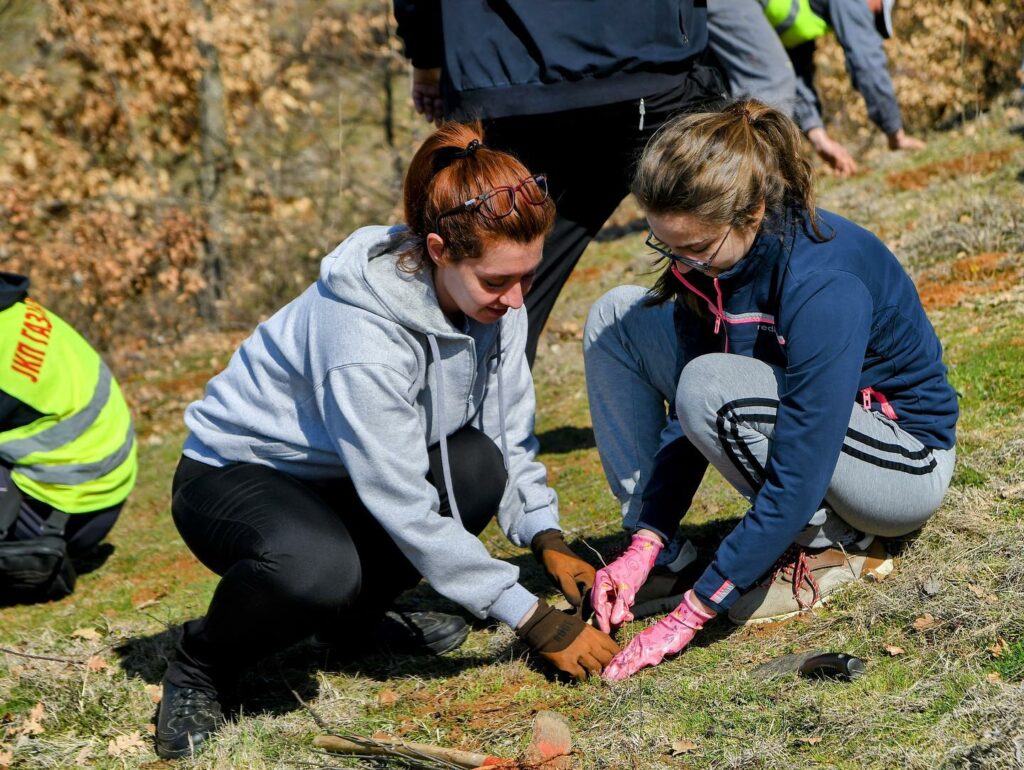 In the last blog for Endava's "Thank you forest" we mentioned that in the study from the Faculty for forestry, 3200 trees are planned in total/. We planted 2000 trees for the thank you forest and today we completed the plan by planting 1200 trees. 
We finish with. It takes a village to raise a forest